BARBARA DALE MCCALL, COACH EMERITUS – SIX DIAMOND COACH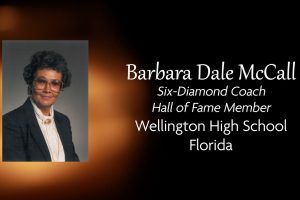 Barbara Dale McCall – dubbed "The Queen of Lincoln Douglas Debate" by the National Speech & Debate Association – passed away in June 2019 at the age of 84.
McCall retired in 2000 after a 32-year-long tenure of coaching debate in Palm Beach County. She earned more than 16,000 NFL points, and was honored as a Sixth Diamond Coach on June 30, 2000.
During her time at both Twin Lakes High School and Wellington High School, Dale was named a "Key Coach" of the Barkley Forum at Emory University, elected to the National Speech & Debate Association Hall of Fame, and was the major figure in the implementation of Lincoln Douglas Debate, including codifying the original set of LD rules and practices.
Dale served as the National Speech & Debate Association's South Florida District chair, helped create the National Speech & Debate Association Florida Manatee District (where she served as chair), and spearheaded the drive to create the National Speech & Debate Association Florida Orange Blossom (then Florida Panther, now Florida Oceanfront) District, of which Palm Beach debate programs are currently members. In addition, as a staunch advocate of academic freedom in the classroom, Dale was named winner of Florida's Intellectual Freedom Award.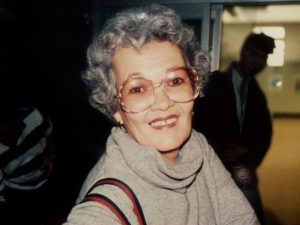 As coach at Twin Lakes, Dale coached National Boys Extemp Champion Barry Mann, who finished 4th two years earlier, as well as Jeannette Kuvin, runner-up in Oratory. In all, 51 qualifiers represented Twin Lakes at National Speech & Debate Association Nationals, many placing in late rounds of Lincoln Douglas, Policy Debate, Oratory, and Extemp.
The Twin Lakes chapter was one of Florida's best at a time when Florida was a single National Speech & Debate Association district and one of the most competitive states in the nation. Dale's Twin Lakes chapter won two Leading Chapter Awards, the District Plaque, and two District Trophies. Dale coached Florida's Student Points Leader five different years. In 1986, Twin Lakes was second in the U.S. in enrollment of new degrees.
Dale's greatest strength was working with parents, who formed a Booster Club, raised money, and judged.
After coming to Wellington in 1988, Dale achieved similar success, qualifying 13 students to eight nationals, including late-round competitors in Lincoln Douglas and Policy Debate. Under McCall, Wellington twice was the district's largest chapter, and won the district trophy.
Dale coached at the Georgetown, American and Iowa summer institutes, and was a most popular teacher. She coached nationally ranked debate teams and extempers early in her career, and then almost singlehandedly invented Lincoln Douglas Debate in the early 1980s. After retiring, Dale served as treasurer of the Palm Beach Catholic Forensic League, and assisted in workshops for students and new coaches.
From her obituary: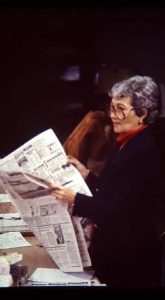 Originally from South Carolina, Barbara Dale McCall grew up an only child in Ocala, FL to parents, Fred and Beulah Lauder. After graduating from Ocala High School, she received her BA from Stetson University, and her MA at Cornell University, as well as post-graduate work at the State University of Iowa and the University of Florida.
After completing her education, she embarked on a career in teaching English and Debate. Locally, she taught at Twin Lakes High School and Wellington High School. She truly loved her career and dedicated much time to her students discovering their talents and encouraging them to pursue their goals. The pinnacle of her career was being inducted into the National Speech and Debate Association Hall of Fame.
Barbara retired in 2000, and spent many years enjoying her passion of traveling with her husband and friends. She was fascinated by the diverse cultures of many countries. When not traveling she enjoyed spending time with her family and volunteering with the local debate clubs, which included serving as treasurer for the local Catholic Forensic League.
Survivors include her husband of 54 years, Marvin McCall, her children, Heather (Daniel) Jewett of Cape Coral, and Carter Brown of Boulder, their grandchildren, Kaitlyn Kunz and Theo Brown, as well as one great grandchild, Marlee Kunz.